1st iCUBE Governing Board Meeting
21 August 2023
2023-09-04 16:48
1st iCUBE Governing Board Meeting
The 1st meeting between the iCUBE governing board members was held on 28th January 2011 at the Kuala Belalong Field Studies Centre. During the meeting, discussions were on iCUBE work programme for the coming two years, which included the planning for workshops, international conferences, joint research projects, student and staff exchange programmes and internship programmes for graduate students.
To further strengthen the ties between the 8 universities, an agreement was signed during a ceremony held on 29th January 2011 at The Core, New Residential College, Universiti Brunei Darussalam. The signing ceremony was witnessed by the Guest of Honour, Minister of Development Pehin Orang Kaya Indera Pahlawan Dato Seri Setia Hj Suyoi Hj Osman.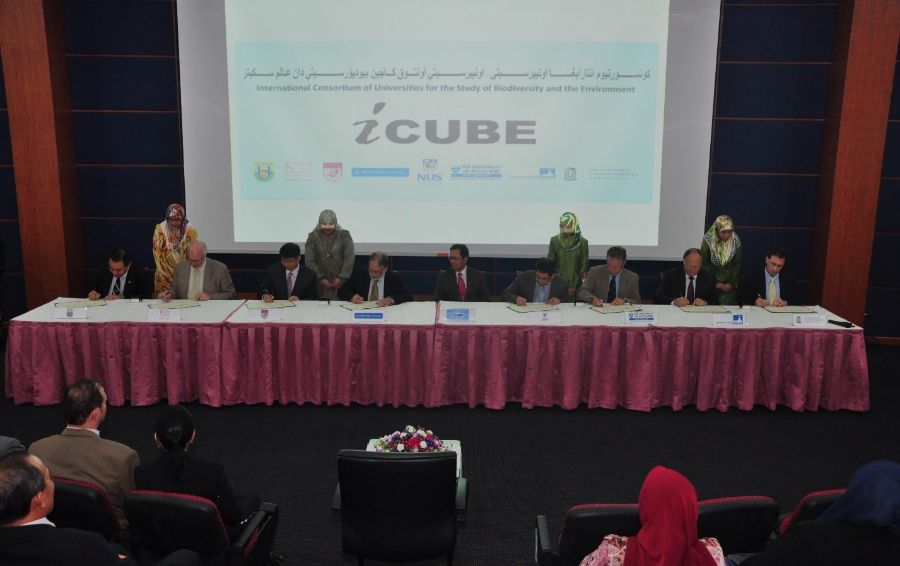 "It would therefore be interesting to find out how iCUBE through its research expertise and the strategic advantages of each of the partner universities, will be able to address the issues and problems of global significance, and assist governments in preventing biodiversity loss and in protecting their natural environment", said the Minister who also recalled the titah of His Majesty the Sultan and Yang Di-Pertuan of Brunei Darussalam during the Monarch's 61st birthday celebration in 2007 that one of the challenges to development is its impact on the environment.
"Being a small nation, Brunei does not escape from natural calamities such as flash flood, soil erosion and siltation of the waterways. Although they are not as disastrous as those experienced in other countries, they serve as a wake-up call for us not to be complacent in evaluating the effectiveness of the planning and building of infrastructure in this country", the Minister said.
"I would recognise that iCUBE is an initiative that will support two of the five policy directions contained in the Environment Strategy outlined in the Policies and Strategies for Development of Brunei Darussalam for 2007-2017, namely in continuing our efforts to conserve Brunei's remarkable biodiversity, rainforest, and natural habitat and in supporting global and regional efforts to address trans-border and regional environmental concerns", the Minister said.
Meanwhile, the Vice-Chancellor of UBD, Dr Hj Zulkarnain Hj Hanafi said that UBD looks forward to working closely with iCUBE partner universities to further develop an understanding of the ecological environment as well as developing strategies for environmental conservation and sustainability.