iCUBE Scientific Committee Workshop 6th July 2019 University Brunei Darussalam (UBD)
25 January 2021
2022-11-10 2:25
iCUBE Scientific Committee Workshop 6th July 2019 University Brunei Darussalam (UBD)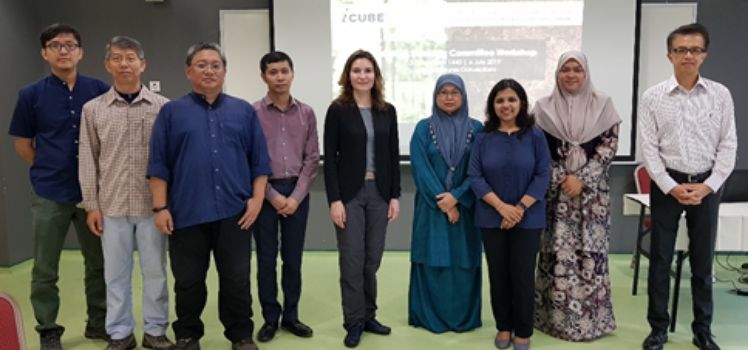 iCUBE Scientific Committee Workshop 6th July 2019 University Brunei Darussalam (UBD)
An iCUBE workshop was held at IHS extension building, Universiti Brunei Darussalam on the 6th July 2019. The scientific workshop started with the recital of Surah Al-Fatihah and by the welcoming remark by Dr. Rahayu Sukmaria Hj Sukri as the head iCUBE secretariat (UBD) and followed by self-introduction of iCUBE universities members present. A total of 10 researchers were present during the scientific workshop, Professor Yowhan Son and Professor Asia Khamzina from Korea University, Dr. Chong Kwek Yan from National University of Singapore and Dr. Rahayu Sukarmaria Hj Sukri, Dr. Faizah Hj Metali, Dr. Takaomi Arai, Dr. Pooja Shivanand, Dr. Hussein Taha, Dr. Siti Salwa Abd Khalid and Mr. Rodzay Hj Abdul Wahab from Universiti Brunei Darussalam.

The aim of the workshop was to address issues for both research and education and also problems related to biodiversity and the environment. In order to share each researchers' interest and concerns, a total of three lectures were given, each one by Dr. Rahayu, Prof. Son and lastly by Dr. Chong. The first presenter, Dr. Rahayu gave a brief introduction of the Biology Department and its function. Biodiversity has also become the key research thrust of UBD. She highlighted two main projects, i) The pilot rehabilitation project in degraded kerapah forest in Lumut, ii) Collaboration with SMART on peat-swamp ecology, the diversity and ecosystem dynamics at peat-swamp forest at Mendaram. Recent collaboration with Brunei Heart of Borneo Initiative at Badas peat-swamp area.

Dr. Rahayu also touched matters on the previous iCUBE projects such as the first graduate workshop at the field study centre, Galapagos and Bukit Pagon expedition in 2012. Next presentation presented by Prof. Son where he gave a brief introduction about biodiversity and environment, the departments and his Ecosystem Ecology lab in Korea University. He talked about some major study they conducted. Some of them were open field experimental warming and manipulation study, the carbon stocks and dynamics in tropical forest, monitoring changes in forest land and verification in plots in Brunei and investigation on soil and plant changes after deforestation. Lastly, Dr. Chong gave a brief Brief introduction on Department of Biological Sciences (DBS) in National University of Singapore and on conducted research under DBS. The workshop was divided into three main sessions, where for the first session it was on the new research direction for iCUBE. Based on the discussions made, it was summarized into three common area of interests, i) To continue conducting research into biodiversity and environmental research towards achieving SDGs, ii) To focus on ecosystem and biodiversity inventory and lastly iii) To study on freshwater and landscape ecology.

Moving on to the second session, where the members focus more on iCUBE research collaborations. Each group was to identify potential research projects of collaborations that will be conducted based on the discussed three common areas of interest during the first session and this was facilitated by Dr, Rahayu. Based on the discussion between two groups, the potential project: Influence of development on biodiversity and sustainability because Brunei is looking at economic diversification and development that could be an interest to Brunei government. By monitoring at how development affects biodiversity and ensure sustainability simultaneously. Dr. Rahayu added that each member to take back the discussion to perspectives universities and considering the step or inputs that can be brought into the projects from the universities.

For the third session concentrating on the iCUBE academic collaborations for 2019 iCUBE graduate students that would be an interest to all iCUBE universities. The proposal includes training to iCUBE graduate students on latest technologies, skill development workshop to use modern techniques in research via skill development that is relevant for the students and also members were to bring back to respective universities and determine what area of skills students would be interested in, and to determine the experts that can be brought to the workshop. During the discussions, it was decided that the potential time to conduct the workshop will be in late December to early January after considering the potential time with both National University of Singapore and Korea University.

The closing remarks was delivered by the Head of iCUBE Secretariat, Dr. Rahayu and she made a short recap about all the three sessions.